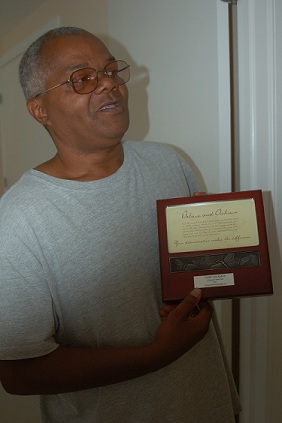 Record Observer
July 2011
When a lady friend came to visit his new apartment recently, Terry Thurman checked to make sure it was OK.
If the idea of calling a place one's own caused a momentary hesitation for the 56-year-old Thurman, for his neighbor, Liz Owings, it was a completely novel concept.
Owings previously spent time at the Upper Shore community Mental Health Center in Chestertown, and at another facility in Dorchester County, and has moved between different group homes on five or six other occasions over the last decade and a half.
Now, though, thanks to Housing and Urban Development and the Maryland Affordable Housing Trust funds and Crossroads Community, the Centerville-based non-profit that assists those with chronic mental illness in five mid-shore counties, Owings, 57, has her own home for the first time in her life.
"It's really an answer from God," says Owings. "I've never been to a place so nice…there's so much privacy and peace."
For these two residents as well as the organization that works with them, the recent opening of the 10-unit apartment building on Crossroads' Banjo Lane Property marks a watershed moment, says Suzanne Moore, resource development coordinator for the non-profit.
"That is a huge step, the culmination of a journey," Moore says.
While in other contexts, the word "recovery" may signify an end to dependence on alcohol or drugs, at Crossroads it means a broader independence for those with mental illness to make their own life choices, including setting and working towards achieving their goals.
Both Thurman and Owings have lived in Crossroads-affiliated group residential environments and taken advantage of the organization's rehabilitation services that aim to help them become as self-sufficient as possible.
Now they have their own keys, pay a promotion of their income in rent and call these sleek one-bathroom apartments home.
Designed by Baltimore's Cobalt Architects and built by Easton-based Willow construction, the two-story building featuring occupancy-sensitive lighting as well as large balconies and patios could well be among the choicest rentals in downtown Centreville.
The Banjo Lane building has been set up to assist its residents with the transition to greater independent living. Each of the sunny units has been fitted with up-to-date kitchen appliances, washer and dryers, etc., and residents were provided with beds and bureaus, couches and dining tables.
While moving into their own place is a major step for Thurman, Owings and other residents, it's not necessarily the last. Residents have leases and there is no limit on their stays, but there is also leeway for them to move on should they feel capable of doing so. In addition to ongoing therapy the resident either participates in a daily life skills "club" or work.
For now, Thurman and Owings are enjoying their new homes.