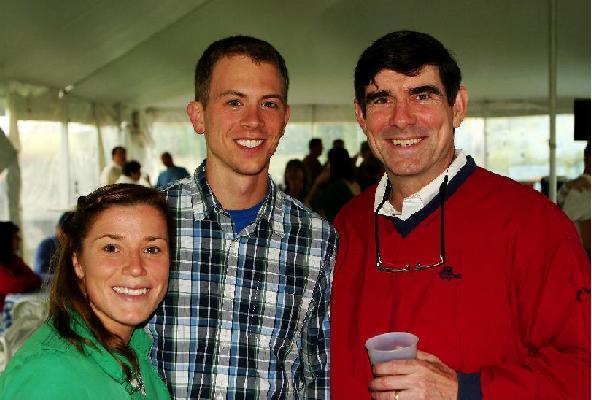 Crossroads Community's Flying Pig Roast lived up to its theme of "Defying the Odds" by staying rain-free on a weekend when the weather threatened outdoor events throughout the area.
On May 18, more than a hundred guests enjoyed a pig roast with all the trimmings under tents on the grounds of Lea Brooks' Piney Point Farm waterfront home to benefit Crossroads Community Foundation's dental program. The Chris Sacks Band provided entertainment for the evening.
Primary sponsorship for the event came from CNB and Chester River Health System, with additional support from Triton Wealth Management, What's Up? Media, Ebb Tide Tent and Party Rentals, The Peoples Bank of Kent County, Morgan Stanley Smith Barney, C. Albert Matthews, Inc., Wagamon Technology Group, and Price & Gannon True Value.
Crossroads Community provides mental health recovery resources to a five-county Eastern Shore service area. In addition to offering her thanks to the sponsors, guests, Brooks and Sacks for their support, Crossroads Community Board President Mary Lou Pagella recognized the staff, board members and volunteers for their dedication to bettering the lives of those served by the organization.
"One of our most important missions is to improve the lives of our consumers," said Pagella, "and one of the best ways to do that is to improve their health."
She noted that, for those managing serious mental health issues, dental care often becomes a secondary concern, and they may have little ability to pay for services. Pagella commended dentists Neil Brayton of Kent County, Thomas Downs of Centreville and Jared Nave of Cambridge for their work with the organization in offering reduced-fee dental services to its consumers. "It is more than a health issue," she emphasized. "It's a self-confidence issue."
Nave described the gratification he receives in working with those referred by Crossroads, noting one individual who, he said, looked twenty years younger when the dental work was done. "It's great to see what a difference it can make," he said, thanking Crossroads Community for making it possible.
One consumer who benefited from the Crossroads program, Carol Mason, told guests that her dental problem had been immediately addressed thanks to the organization, adding, "I am so grateful for all the help I've gotten."
More than $12,000 in proceeds from the Flying Pig Roast will help provide dental services to Crossroads consumers in Caroline, Dorchester, Kent, Queen Anne's and Talbot counties.
For more information, to make a donation or to volunteer, contact Crossroads Community at 410-758-3050 or visit its website, www.ccinconline.com.