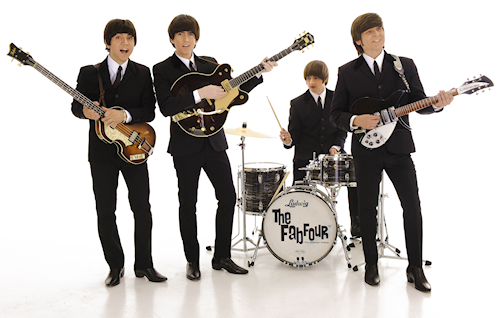 Crossroads Community is celebrating its 30th anniversary and the 50th anniversary of the Beatles' invasion of America by hosting the Fab Four in concert at the Todd Performing Arts Center at Chesapeake College on Saturday, September 20, starting at 7 p.m. The fundraiser supports the organization's provision of mental health recovery resources to a five-county Mid-Shore area.
"Each year we have a fundraiser to support Crossroads Community's programs," explained Dan Rosendale, fundraising chair. "However, this year is the 30th anniversary of our organization, so we wanted something special, and who is more universally enjoyed than the Beatles?"
Describing itself as "The Ultimate Tribute" to the Beatles, the Emmy Award-winning Fab Four offers concert-goers performances spanning the entire Beatles repertoire. With three costume changes to match the song eras, the group is renowned for its attention to detail, including appearances by "Ed Sullivan."
Doors will open early for guests to enjoy a cash bar and auction, where a guitar signed by Paul McCartney will be up for bid. Major sponsors will have an opportunity for photos with the band after the show.
Early sponsors include CNB, Triton Wealth Management, Chesapeake Publishing and What's Up? Media. Additional sponsors are welcome, and those interested may contact Suzanne Moore at 410-758-3050 ext. 126 for more information. Sponsorship and ticket sales benefit Crossroads Community services, such as its Dental Program and Transitional Age Youth Program.
Tickets are $100, $75 and $50, and are available by calling 410-827-5867.
For more information, to make a donation or to volunteer, contact Crossroads Community at 410-758-3050 or visit its website, www.ccinconline.com.