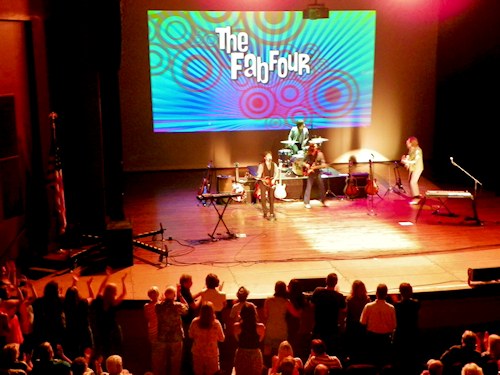 Beatles fans of all ages were dancing in the aisles and singing along
to their favorite tunes at the Fab Four concert.
Crossroads Community recently celebrated its 30th anniversary with a Fab Four tribute to the 50th anniversary of the Beatles' invasion of America. Billed as "The Ultimate Tribute" band, the Fab Four performed at the Todd Performing Arts Center at Chesapeake College to an appreciative Eastern Shore crowd of all ages.
Mary Lou Pagella, Crossroads Community Board President, described the event as "a great opportunity to go back to your youth." With three costume changes and Ed Sullivan impersonator Jerry Hoban as emcee, the show had fans dancing in the aisles and singing along to favorites from the Beatles' repertoire.
Doors opened early for guests to enjoy a cash bar and silent auction, where fans bid on a Fender guitar signed by Paul McCartney and a framed Abbey Road album autographed by McCartney and Ringo Starr.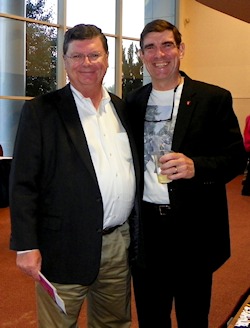 CNB, represented by President Winfield Trice, left, and attorney Dan Rosendale were major sponsors of the Fab Four concert to benefit Crossroads Community.
CNB and the Law Offices of Daniel D. Rosendale provided major sponsorship for the concert. Additional sponsors included American Legion Jeff Davis Post #18 and Kent Island Post #278, the Town of Centreville, Chesapeake Publishing, Coors Light, The Peoples Bank of Kent County, Richard J. Princinsky & Associates, Rosendale Realty, T.R. Klein & Company, Triton Wealth Management, VFW Grasonville Post #7464, and What's Up? Media.
Concert proceeds benefit Crossroads Community Foundation's services, such as its Dental Program and Transitional Age Youth Program. As Executive Director John Plaskon noted, "The event supports services our typical funding sources don't cover, helping us to meet the additional needs of the folks we serve." The organization provides mental health recovery resources to residents of Caroline, Dorchester, Kent, Queen Anne's and Talbot counties.
For more information, to make a donation or to volunteer, contact Crossroads Community at 410-758-3050.