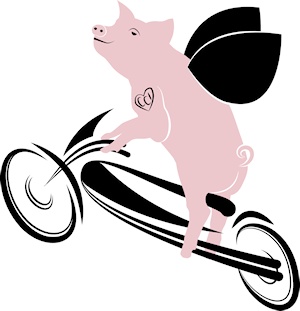 With the help of its signature flying pig, Crossroads Community will host a "Po(r)ker Run" on Saturday, September 26, through the back roads of Queen Anne's, Caroline and Kent counties. Crossroads Community provides mental health recovery resources for Caroline, Dorchester, Kent, Queen Anne's and Talbot counties. Its flying pig offers a reminder that those with behavioral health issues can and do defy the odds and recover.
Early sponsors of the Po(r)ker Run are Wells Fargo and Triton Wealth Management. Funds raised will support dental care for Crossroads Community Foundation's consumers.
The poker run begins at 9 a.m. at the Cherry Lane Pavilion in Tuckahoe State Park, where the run also will end. The event is open to motorcycles, cars and other motorized vehicles. Participants will receive a card at each of five stops to make up a poker hand.
Finish line festivities begin at 3 p.m. at the pavilion, where there will be music, food and adult beverages. Cash prizes will be awarded to the best and worst poker hands.
Pre-registration for $25 is available beginning May 11 at the Poker Run by Crossroads Community Facebook page or on the Crossroads Community website, www.ccinconline.com. Registration at the event will be $35. Additional poker hands for participants or their passengers are $10 each.
For more information, to make a donation or to volunteer, contact Crossroads Community at 410-758-3050 or visit its website, www.ccinconline.com.

Pre-register Now!