Our Values
We believe in delivering quality services through effective leadership and empowered professional teams who are focused on meeting the needs of our customers.
---
Our Logo

Since 1983 the Butterfly has symbolized the potential in all of us to grow, just as the caterpillar becomes a beautiful butterfly. The Star has symbolized that through our individuality we can all shine in our own right. The Circle has symbolized the unending support and unity of purpose that we provide each other at Crossroads Community.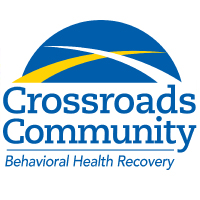 In 2016, Crossroads adopted a new logo in an effort to increase awareness of the organization and it's cause. 
Crossroads staff member, Kathleen Cattell said, "Crossroads Community is a supportive program that empowers individuals with various behavioral health needs to choose the road they want to take, while receiving support to help them move forward, to me, the new logo clearly expresses our mission."
Click below to read the press release addressing our new logo for the full story.
---
Our Code of Ethics
Ethical Code of Conduct
Crossroads Community, Inc. is dedicated to the delivery of quality behavioral health care in an environment in conformance with the highest standards of accountability for administration, business, and financial management. Commitment to ethical professional conduct is expected of every Crossroads Community employee, board member and volunteer. This Ethical Code of Conduct is supplemented by policies and guidelines that serve as a basis for ethical decision making in the conduct of professional work. Note: In addition to the CCI Ethical Code of Conduct, all staff certified as Psychiatric Rehabilitation Practitioners are obligated to also comply with the PRA Code of Ethics.
Click below for the full Code of Ethics
---
Commission on Accreditation of Rehabilitation Facilities (CARF)

Crossroads Community, Inc. has been awarded the highest level of accreditation by the Commission on Accreditation of Rehabilitation Facilities (CARF) International for seven of its programs:
Psychiatric Rehabilitation Programs (Adults and Youth)

Residential Rehabilitation Program

Health Home Program (Adults and Youth)

Vocational Program

Respite Program

CARF accreditation is a public seal of trust and commitment to quality based on internationally accepted standards. Achieving this accreditation demonstrates Crossroad Community's commitment to exceptional, personalized care. An organization receiving the highest level of CARF accreditation has undergone a detailed peer review process and has demonstrated to a team of surveyors, during an on-site visit, its commitment to providing programs and services of the highest quality. For more information on CARF, visit the CARF webpage.
---
Standards for Excellence Accreditation

We recognize that our success as an agency depends on public confidence and trust. Crossroads Community, Inc. has voluntarily participated in the Maryland Association of Nonprofit Organization's Standards for Excellence program, subjecting our policies and practices to a rigorous set of ethics and accountability standards. We have earned the Standards for Excellence accreditation, and proudly display this symbol. Based on fundamental values such as honesty, integrity, fairness, respect, trust, compassion, responsibility and accountability, the Code sets a high benchmark for program operations, governance, human resources, financial management and fundraising. The earned Seal of Excellence is:
A symbol of trust

A symbol of excellence in nonprofit management

A symbol of excellence in leadership

A symbol of openness and disclosure
For more information on Standards for Excellence, visit the webpage here.