Valuing Volunteers
---
According to the Independent Sector website, in 2014 Maryland nonprofits paid $12.1 billion in wages annually to 266,742 people. The nonprofit payroll represents 11.1% of the state's workforce.  The nonprofit industry is the second largest industry in the state.
An often overlooked and underutilized workforce is the volunteer and its financial contribution to the organization.  Over 28% or 1.25 million Maryland residents volunteer ranking the state 22nd among the 50 states and Washington, DC.  Over 145 million hours of volunteer service was contributed throughout the state during 2014 with a value of $3.4 billion.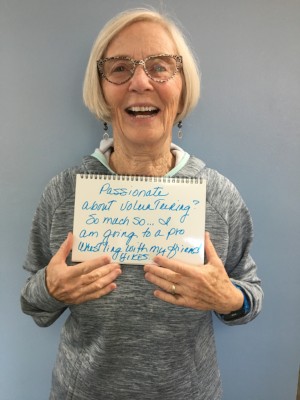 Crossroads Community welcomes the many and varied ways that volunteers contribute to our daily operations.  Whether it is an academic intern working in direct service or a governing board of community members gathering for strategy meetings, we greatly value the contribution of time and talent for the ultimate benefit to the consumers in our service.
A conservative projection for FY16 is that Crossroads will benefit from 2328 hours of volunteer service to our agency.  Calculating the hourly value of $23.07 established by Independent Sector, Crossroads will receive the equivalent of $53,706.96 in service from our volunteers.
The heart of our volunteer program is the Companion program where individuals are paired with a consumer.  The intention is simply to be a friend to the consumer broadening their community experience.  Although we can put a dollar value on the Companion time-- to the consumer it is priceless.
The Importance of Friendship
---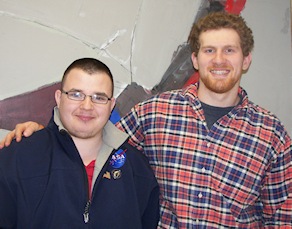 Jackson was becoming increasingly introverted. His social time with peers was at a minimum and his lack of animation worried Residential Rehabilitation Specialist Kelly Jo Farace. She knew his participation in the Queen Anne's County Recovery Club was going well, but there was still something missing in Jackson's life. Something that was outside of the purview of staff relationships. Kelly Jo turned to Volunteer Coordinator Lucas DiFabbio for suggestions and help. Part of his responsibility was creating an opportunity for a friendship to grow by pairing willing volunteers with a specific client. She thought Luke could identify a friend for Jackson. Lucas didn't miss a beat. He felt he had just the right person. The volunteer he had in mind was age appropriate and enjoyed similar interests. That person was Luke. He wanted to volunteer at Crossroads to fulfill an expectation of service to the community as a Volunteer Maryland Coordinator. He understood the mission of Crossroads' program and was quickly learning how effective authentic relationships were in the Recovery process for those with behavioral issues. Friendship is the foundation of building personal independence for those managing behavioral issues. Friendships build trust and resiliency. We need more volunteers to make a difference in the lives of those we serve. Perhaps you? Jackson is smiling broadly now. While reluctant initially to be paired with someone, he is happy with his new pal. Jackson reports that he looks forward to hanging out, going to movies and listening to music with Luke. Asked if his new friend had made a difference in his life. With an unmistakable smile, Jackson said, "Yes!" Won't you consider being a friend to a client at Crossroads? The benefits of volunteering are immeasurable.
For more information contact our Volunteer Coordinator at cci@ccinconline.com  or (410) 758-3050